Product Features:
•Substantial reduction of the operation noise, by 10 to 15 db (comparison with Daikin products), and improved sound quality are achieved by adopting noise reduction technology unique to Daikin.
•The integrated structure reduces the total length by approximately 40% in comparison with Daikin conventional models, makes handling simpler, and is leading to downsizing the main machine.
•Pulsation has also been reduced by approximately 50% in comparison with Daikin conventional models.
•The fully enclosed structure with no shaft protruding from the casing eliminates the possibility of oil leakage without an oil seal. In addition, the oil-cooled motor suppresses temperature rise of the coil and enables prolonged continuous overloaded operation.
•These models are best suited to integration into European Safety Standard (CE) compliant equipment since they are equipped with a terminal box that satisfies the IP54 ingress protection grade and complies with international standards such as EN60034-1.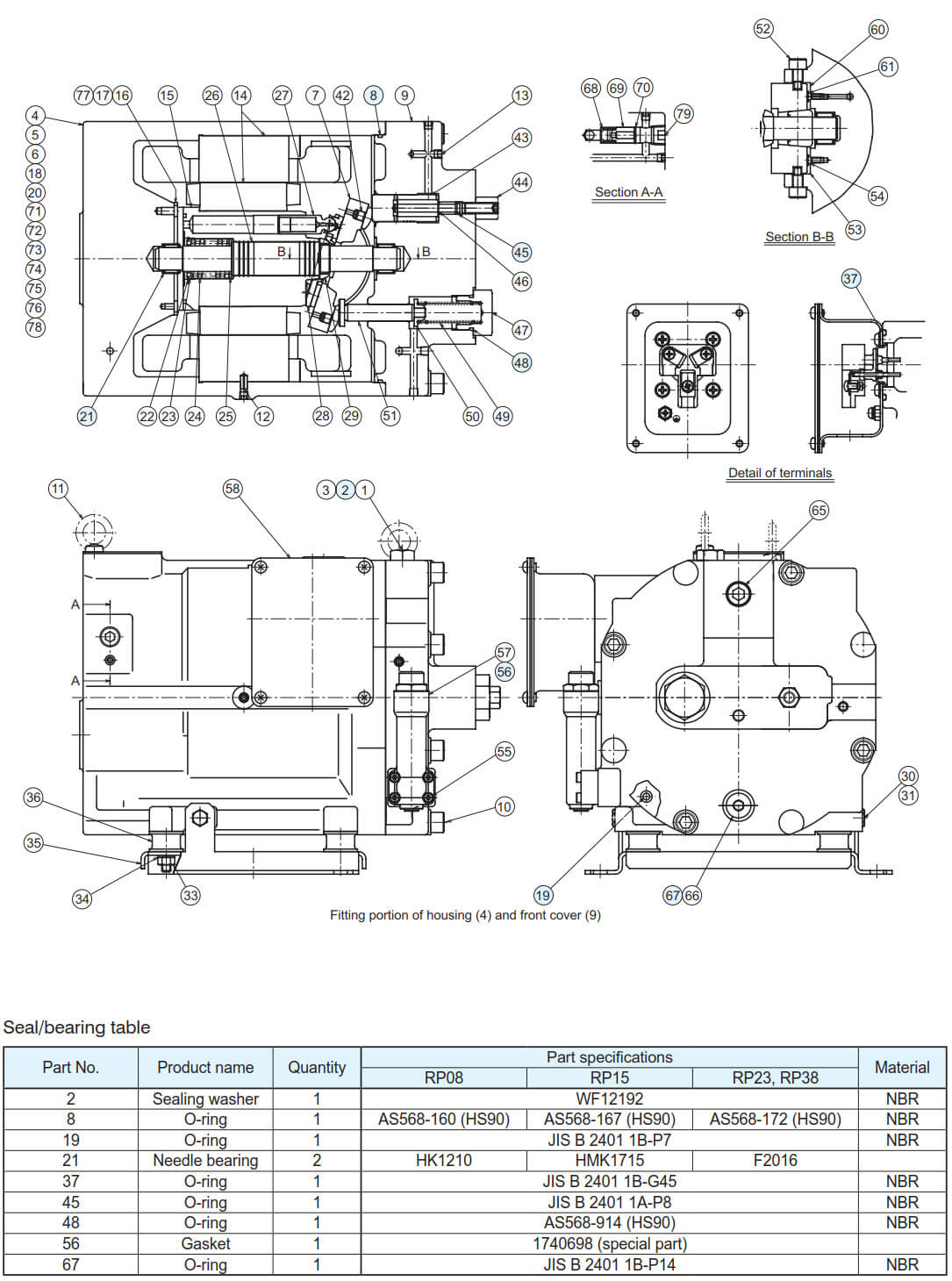 | RP08A1-07-30 | RP15A1-15Y-30-T |
| --- | --- |
| RP08A1-07-30-001 | RP15A1-22-30 |
| RP08A1-07-30-T | RP15A1-22-30-001 |
| RP08A1-07X-30 | RP15A1-22-30-T |
| RP08A1-07X-30-T | RP15A1-22X-30 |
| RP08A1-07Y-30 | RP15A1-22Y-30 |
| RP08A2-07-30 | RP15A1-22Y-30-T |
| RP08A2-07-30RC | RP15A2-15-30 |
| RP08A2-07-30RC-T | RP15A2-15-30-T |
| RP08A2-07-30-T | RP15A2-15X-30 |
| RP08A2-07X-30 | RP15A2-15Y-30 |
| RP08A2-07X-30RC | RP15A2-15Y-30-T |
| RP08A2-07X-30RC-T | RP15A2-22-30 |
| RP08A2-07X-30-T | RP15A2-22-30RC |
| RP08A2-07Y-30 | RP15A2-22-30RC-T |
| RP08A2-07Y-30RC | RP15A2-22-30-T |
| RP15A1-15-30 | RP15A2-22X-30 |
| RP15A1-15-30RC | RP15A2-22X-30RC |
| RP15A1-15-30RC-T | RP15A2-22Y-30 |
| RP15A1-15-30-T | RP15A2-22Y-30RC |
| RP15A1-15X-30 | RP15A2-22Y-30RC-T |
| RP15A1-15X-30RC | RP15A2-22Y-30-T |
| RP15A1-15Y-30 | RP15A3-15-30 |
| RP15A1-15Y-30RC | RP15A3-15-30-T |
| RP15A1-15Y-30RC-T | RP15A3-15X-30 |